Lush is a cruelty-free beauty brand with lots of vegan options. They carry a variety of products including cosmetics, body care, and skincare. Lush makes great quality vegan products that I have been using for years. Since their products focus on self-care, they also make great gifts. Their products are available on their own website as well as in their own flagship stores. Without further ado, here are the vegan products from Lush. Seasonal, Limited Edition, and discontinued items may not be on this list.
Please note that the products on these lists are subject to change. Ingredients in beauty products change often and it is difficult to keep up with the changes. Please feel free to do your own research by reading ingredient lists and reaching out to the brands to cross-check information.
Thank you for using the affiliate links and codes in this post, it helps me with a small compensation so I can provide more content.
Lush Vegan Products
Skincare
7 to 3 Cleansing Pad
Angels on Bare Skin Cleanser
Aqua Marina Cleanser
Argan Naked Facial Oil
Breath of Fresh Air Toner
Celestial Moisturizer
Cup O' Coffee Face Mask
Dark Angels Cleanser
Eau Roma Water Toner
Enzymion Moisturizer
Fresh Farmacy Facial Soap
Full of Grace Serum
Grease Lightning Gel
Herbalism Cleanser
Imperialis Moisturizer
Jade Roller Naked Cleansing Balm
Kalamazoo Facial Wash
Let The Good Times Roll Cleanser
Light Touch Naked Facial Oil
Ocean Salt Self Preserving Scrub
Skin Drink Moisturizer
Tea Totaler Naked Cleansing Balm
Tea Tree Water Toner
Ultraplant Facial Cleanser
Shower Gels, Bombs, Scrubs, and Oils
American Cream Shower Gel
Coco Loco Naked Shower Oil
Comfort Zone Shower Bomb
Conga Shower Jelly
Dirty Springwash Shower Gel
Happy Hippy Shower Gel
Lord of Misrule Shower Gel
Minamisoma Naked Shower Oil
Nana Shower Gel
Not Sleepy Shower Bomb
Oaty Creamy Dreamy Shower Cream
Prince Charming Shower Gel
Rose Jam Shower Gel
Rub Rub Rub Body Scrub
Sleepy Shower Bomb
Sleepy Shower Gel
The Olive Branch Shower Gel
Twilight Shower Jelly
Validation Shower Bomb
Lip Scrubs + Balm
Bubblegum Lip Scrub
Cherry Lip Scrub
Cookie Dough Lip Scrub
Key Lime Pie Lip Balm
Mint Julips Lip Scrub
Rose Lollipop Lip Balm
Unicorn Lip Scrub
Watermelon Sugar Lip Scrub
Deodorant
Aromaco Deodorant
T'eo Deodorant
The Greeench Deodorant
Hair
American Cream Pressed Conditioner
Angel Hair Shampoo Bar
Avocado Co-Wash
Big Pressed Conditioner
Big Shampoo
Brun Henna Hair Dye
Candy Rain Conditioner
Coconut Rice Cake Shampoo Bar
Curl Power Hair Cream
Cynthia Sylvia Stout Shampoo
Daddy-O Shampoo
Damaged Hot Oil Treatment
Dirty Styling Cream
Flyway Hair Shampoo Bar
Glory Conditioner
The Golden Cap Pressed Conditioner
Godiva Lucky Coin Shampoo Bar
Happy Happy Joy Joy Conditioner
Jasmine and Henna Hair Treatment
Jason and the Argan Oil Shampoo Bar
Jumping Juniper Shampoo Bar
Marilyn Hair Treatment
Marron Henna Hair Dye
Montalbano Shampoo Bar
New Shampoo Bar
No Drought Dry Shampoo
Noir Henna Hair Dye
Power Conditioner
Rehab Shampoo
Renee's Shea Souffle
Revive Hair Moisturizer
Rouge Henna Hair Dyes
Seanik Shampoo Bar
Sea Spray Hair Mist
Soak and Float Shampoo Bar
Superbalm Scalp Treatment
Super Milk Conditioning Hair Primer
Veganese Conditioner
Wasabi Shan Kui Shampoo
Foot Soap + Powders
Silky Underwear Dusting Powder
T For Toes Foot Powder
Pumice Power Foot Soap
Toothpaste & Mouthwash
Boom Toothy Tabs
Creme de Menthe Mouthwash Tabs
Dirty Toothy Tabs
Makeup
Charisma Skin Tint
Emotional Brilliance Translucent Face Powder
Eyes Right Mascara
Feeling Younger Skin Tint
Get in There Small Liner Brush
Independent Eyeliner
Magical Moringa Beauty Balm
Bubble Bars
Abracadabra Bubble Stick
Ahoy Reusable Bubble Bar
Aliens and Monsters Fun
Apple Crumble Bubbleroon
Big Bottle of Calm Reusable Bubble Bottle
Big Bottle of Energy Reusable Bubble Bottle
Blow Me A Kiss Bubble Blower
Blue Skies and Fluffy White Clouds Bubble Bar
Brightside Bubble Bar
Bubble Bubble Toil and Trouble Bubble Bar
Bubble and Squeak Bubble Scrub
Castle in the Clouds Bubble Bar
Crayon Bubble Stick
Creamy Candy Bubble Bar
Dragon Legend Bubble Stick
Dynamite Bubble Stick
Eclipse Bubble Bar
Elsie The Giraffe Bubble Stick
Figs in Honey Bubble Bar
A French Kiss Bubble Bar
Frozen Reusable Bubble Bar
Lemon Crumble Bubbleroon
Ladybug Bubble Bar
Lightbulb Moment Reusable Bubble Bar
Mallow Drama Bubble Stick
Matcha Bar Bubble Bar
Mermaid Tail Bubble Bar
Milky Bath Reusable Bubble Bottle
Mrs Whippy Bubble Bar
Peach Crumble Bubbleroon
Pop in the Bath Bubble Bar
Puppy Love Bubble Bar
Rainbow Bubble Bar
Rainbow Fun
Raspberry Blower Reusable Bubble Bar
Rose Jam Bubbleroon
Silver Liner Bubble Bar
Sleepy Bubble Bar
Strawberry Foam Bubble Bar
Sunnyside Bubble Bar
The Big Comforter Bubble Bar
The Comforter Bubble Bar
The Great Wave Bubble Bar
The Honey Pot Bubble Bar
Twilight Bubble Bar
Ultraviolet Bubble Bar
Bar Soap
Figs and Leaves Bar Soap
Goddess Bar Soap
Lemon Zest Bar Soap
Lotus Flower Bar Soap
Olive Tree Bar Soap
Rhubarb and Custard Bar Soap
Ro's Argan Bar Soap
Sandstone Bar Soap
Sleepy Bar Soap
Sultana of Soap Bar Soap
Massage Bars + Body Butter
Buffy Body Butter
Hottie Massage Bar
Naked Attraction Massage Bar
Rose Argan Massage Bar
Wiccy Magic Muscles Massage Bar
Body Conditioner
Ro's Argan Body Conditioner
Ro's Argan Naked Body Conditioner
Tingle Body Conditioner
Tingle Naked Body Conditioner
Body Lotion
Buffy Body ButterCharity Pot Body Lotion
Charity Pot Naked Body Lotion
Dream Cream Body Lotion
Handy Gurugu Hand Lotion
Sleepy Body Lotion
Sympathy for the Skin Body Lotion

Bath Bombs + Melts
Avobath Bath Bomb
Big Blue Bath Bomb
Blackberry Bath Bomb
Butterball Bath Bomb
Ceridwen's Cauldron Luxury Bath Melt
Comforter Bath Bomb
Dragon's Egg Bath Bomb
Floating Flower Bath Bomb
Galactic Bath Bomb
Goddess Bath Bomb
Heart Beat Bath Bomb
Ickle Baby Bot Bath Bomb
Intergalactic Bath Bomb
Love Boat Bath Bomb
Love Locket Bath Bomb
Love Me Do Bath Bomb
Marshmallow World Bath Bomb
Melusine Bath Bomb
Sakura Bath Bomb
Sex Bomb Bath Bomb
Temple of the Sky Bath Bomb
Tisty Tosty Bath Bomb
Turmeric Latte Bath Bomb
Twilight Bath Bomb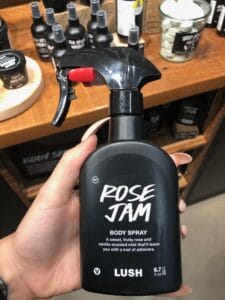 Perfume + Body Sprays
American Cream Perfume
American Cream Solid Perfume
Breath of God Perfume
Breath of God Solid Perfume
Dad's Garden Lemon Tree Body Spray
Dirty Body Spray
Dirty Solid Perfume
Ginger Perfume
Goddess Perfume
Goddess Solid Perfume
Honey I Washed The Kids Body Spray
Junk Perfume
Junk Solid Perfume
Karma Perfume
Karma Solid Perfume
Lord of Misrule Solid Perfume
Lust Perfume
Pansy Solid Perfume
Plum Rain Body Spray
Rentless Perfume
Rentless Solid Perfume
Rose Jam Body Spray
Rose Jam Solid Perfume
Smugglers Soul Perfume
Sun Perfume
Twilight Body Spray
Vanillary Perfume
Vanillary Solid Perfume
What Would Love Do? Perfume
What Would Love Do? Solid Perfume
Wash Card
American Cream Wash Card
Dirty Wash Card
Goddess Wash Card
Junk Wash Card
Lord of Misrule Wash Card
Lust Wash Card
Karma Wash Card
Pansy Wash Card
Rentless Wash Card
Rose Jam Wash Card
Sun Wash Card
Vanillary Wash Card
What Would Love Do? Wash Card
Check out more vegan lists here.